Embroidered Nylon Oxford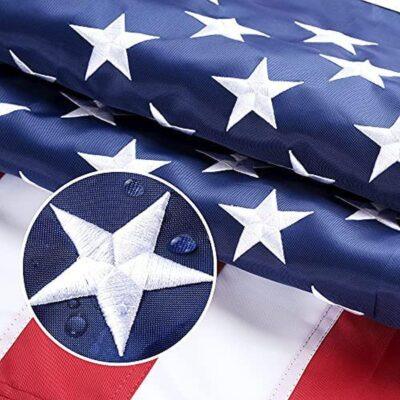 All of our embroidered flags have been sewn, piece-by-piece, with strong stitching techniques and polyester/nylon thread. Not only will the Nylon flag material hold up to the elements, but the stitching will too.
Nylon fabric is a perfect flag material for outdoor use as it will stand up well to the wind, rain, snow and sun. In fact, Nylon fabric is the industry standard for sewn ("embroidered") flags and banners.
Oxford Fabric is a term you might have run across while searching for the perfect flag. Oxford Fabric* is not unique to the type of fabric material used, but the fact that the fabric material has been woven together to produce a basket weave pattern. The result is added strength and a fabric that breathes, allowing air to pass through. This allows the flag to fly easily in the wind.
Nylon Oxford is a lightweight, flexible, yet strong fabric. It has a smooth finish and subtle sheen. Nylon Oxford is great for outdoor gear, sporting goods and most importantly flags!
When the quality embroidery is added to this beautiful flag material, it results in a stunning flag you will be sure to be proud of!
* For more information about why it is called "Oxford" ~Read More Here~